October 17th, 2011
Speaking of sightseeing in Tokyo's downtown (Shitamachi), some popular spots are Ueno, Asakusa and Ryogoku. Public transportation in Tokyo is so convenient that you can travel all across Tokyo by railway, subway and bus. However, they are all operated by different organizations such as the Tokyo Metropolitan Government, Tokyo Metro Company, JR East and so on. Some travelers from foreign countries feel a bit of confusion when they calculate fares or change trains. So the Tokyo Shitamachi Bus could be the solution, since it connects all of the above-mentioned downtown sightseeing spots.
The Tokyo Shitamachi Bus is a fixed-route sightseeing bus which requires no reservations, and it is easy to use even for first-time visitors to Tokyo. Comfortable seats make you feel relaxed, and you can enjoy both the traditional and the modern scenery through large, rounded windows. The bus takes you from one popular spot to another. There are two loops for the Tokyo Shitamachi Bus. One loop connects Ueno, well known shopping spot for foreign tourists, and Kinshicho. The other loop connects Ueno and Ryogoku where the Sumo Stadium (Kokugikan) and the Edo Tokyo Museum are located. The bus runs every twenty to thirty minutes a day between Ueno and Oshiage. On weekends, the Tokyo Shitamachi Bus starts from Tokyo Station, one of the largest terminal stations in Tokyo, stops at popular sightseeing spots such as Akihabara, Ueno, Asakusa and Narihira, and arrives in Ryogoku. Along the route, you can also visit Kappabashi (the famous street for plastic or wax replica foods) and the Tokyo Sky Tree (which has reached its full height of 634 meters, and the observatory will be open in May 2012).

The fare is 200 yen for each ride. However, in order to enjoy the Tokyo Shitamachi Bus, a one-day pass is fully recommended. Which spots to visit, or how to enjoy each spot depends on you. What is ideal for foreign tourists is not only its route, but also that on the bus information is provided in multiple languages, including English, through announcements, leaflets and videos. You would never miss your stop. The exterior and the interior of this wonderful sightseeing bus look very different from other Tokyo Metropolitan buses. However, in fact, it is one of them. This means you can use your one-day pass not only for the Tokyo Shitamachi Bus but also for the other 130 routes of the Tokyo Metropolitan Bus network, so you could save money as well.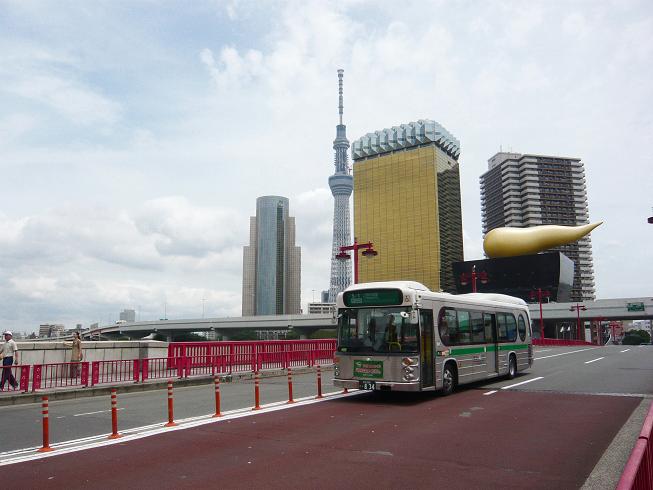 http://www.kotsu.metro.tokyo.jp/bus/shitamachi/english/index.html
Takashi Sonohara, Japan Local Government Center