We, Japan Local Government Center, attended the CSG (The Council of States Governments) National Conference held in Kansas City, Missouri, from Sep 19th (Thu) to Sep 22nd (Sun) 2013.
On the 20th (Fri) from 5pm to 6pm, during the conference, we held the "Japan Local Government Center Reception – Japan Night".
We tried to make the reception characteristic of Japanese taste by displaying several posters of the four seasons in Japan and popular tourist destinations. We also served sushi, Japanese beer, and sake.
Though it was only a 1 hour reception, more than one hundred attendees visited us. They actively enjoyed talking with each other while looking at a map of Japan and tourist information booklets. As it was just decided to hold the 2020 Olympic Games in Tokyo, many of the attendees were interested in visiting Japan.
In the U.S. and Canada, it is popular to hold a reception as part of a conference to offer a place for participants to socialize or to promote something for the host organization. Making good use of a reception is effective for building a network with other participants or for promoting tourism and local products.
Besides attending the conference, we had an opportunity to talk with JET Program alumni members who live around Kansas City and Sister City Association members who support the sister city activities between Kansas City and Kurashiki City (Okayama Prefecture) , which is the sister city of Kansas City.
It was a fruitful trip to Kansas City, Missouri, as we could see many people and start new friendships through holding the "Japan Night" reception and meeting with local people who are involved in international exchange activities.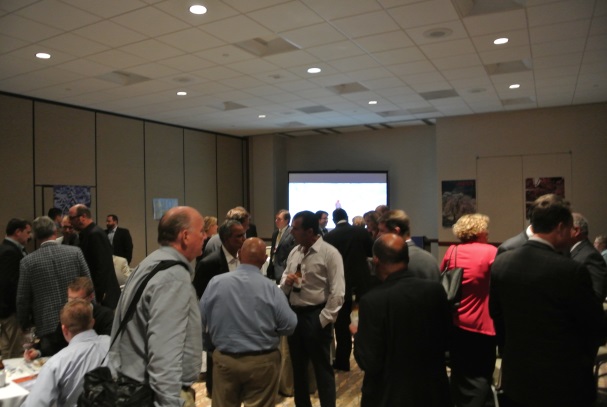 The atmosphere of the reception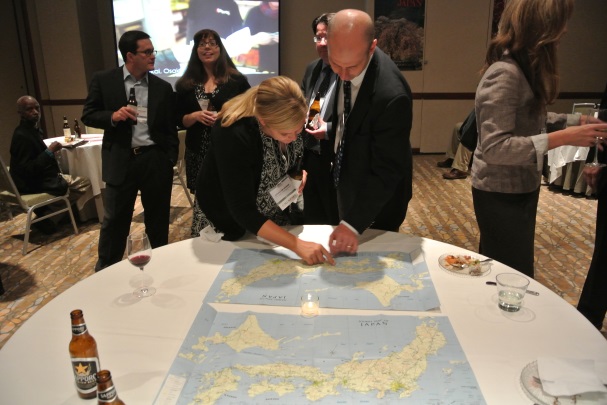 Attendees who were talking while looking at a map of Japan
Yukio Yoshikawa
Assistant Director / Representative of Matsue Municipal Government