A New Focus on Sustainability and Resilience at Brooklyn Botanic Garden
We received a tour of the new Shelby White and Leon Levy Water Garden at Brooklyn Botanic Garden, which had its grand opening on September 15th. It is a 1.5 acre wetland and riparian environment that forms the heart of the Water Conservation Project, a series of improvements at BBG to increase sustainability and resilience with a system to recirculate and reuse water from the Japanese Hill-and-Pond Garden and the new Water Garden pond, as well as absorb runoff from a significant portion of BBG's 52-acre watershed. In the next phase of the project, the existing narrow stream system that runs from the Japanese Hill-and-Pond Garden south and out of BBG will be expanded and planted to form the backbone of the recirculation project. The newly-named Belle's Brook will flow from the Japanese garden pond, through the Plant Family Collection, and into the forebay leading into the Water Garden pond. Two biofilters along the circulation path filter the water, which is then pumped back up through underground pipes to begin its journey again.
An additional innovative sustainability feature is a system utilizing satellite technology and computer modelling to monitor for severe weather and be able to preemptively release water from the garden's pond into the city's sewer system in anticipation of heavy rainfall. The resulting extra capacity to retain runoff will help lessen the strain on City infrastructure during a storm event.
The Water Garden was designed by the award-winning landscape architecture firm Michael Van Valkenburgh Associates (MVVA) as part of BBG's Water Conservation Project, which is itself a part of the ongoing Campaign for the Next Century. Along with celebrating their 100th anniversary in 2010, the trustees and staff at BBG sought to build on the garden's mission of fostering a sense of stewardship of the environment, taking into account increasing understanding of issues facing New York City and the wider world.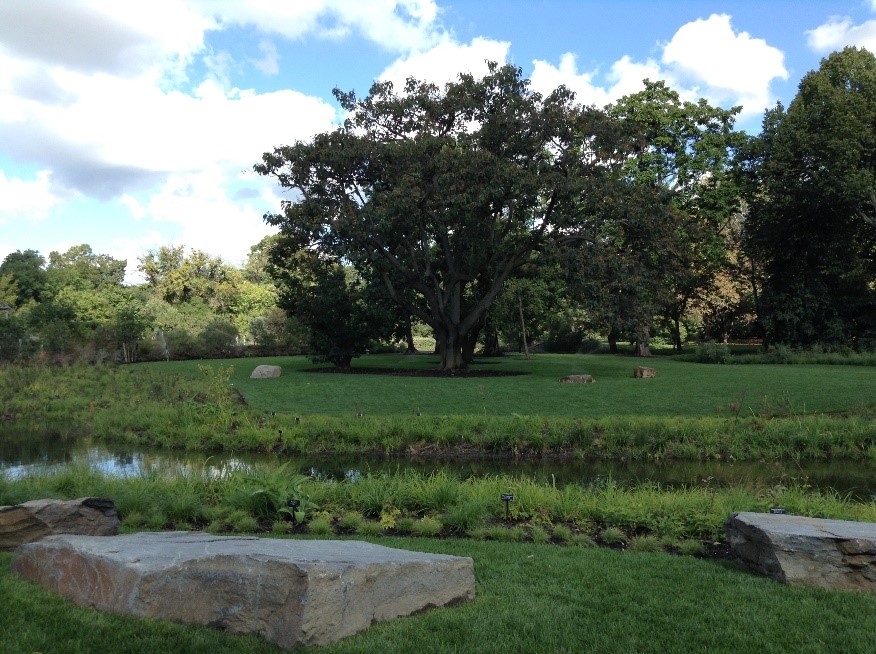 Besides creating biologically rich spaces where visitors can learn about and enjoy nature, BBG wanted to reduce its consumption of fresh water and ameliorate bursts of run-off from torrential rains, which are projected to become an increasingly severe problem as the climate changes. Currently, BBG uses about 22 million gallons of water every year, drawn for its own sources and from New York City's water supply. Once the final phase of work on the Water Conservation Project is complete, expanding the newly-opened section and connecting it with the Japanese Hill-and-Pond Garden, annual outdoor fresh water consumption should be reduced to around 900,000 gallons. Furthermore, by buffering storm run-off, BBG should be able to reduce discharge during major storm events from approximately eight million gallons per year to only 2.5 million. The entire Water Conservation Project is scheduled for completion in 2018.
There will also be educational signage and docents to help explain the Water Garden's features and the issues driving its development, expanding upon BBG's already substantial list of educational and community engagement efforts.
The entire project, including the Water Garden and Water Conservation components, is projected to cost $17.2 million. The Shelby White and Leon Levy Foundation contributed $7 million of this. Significant funding has also been provided by New York City, through the Mayor's Office, Department of Cultural Affairs, City Council, and Department of Environmental Protection, with additional funding from the Brooklyn Borough President, the Robert Wilson Charitable Trust, and the BBG itself.
The new water garden is both a highly advanced example of problem-solving for a changing environment and an absolutely beautiful urban oasis.
Matthew Gillam
September 2016