September 22nd, 2011
The quality and nutritional value of Japanese cuisine has become well known throughout the world. And nobody should wonder that the inseparable companion of Japanese foos is Japanese kitchen knives. Especially in New York, Japanese knives are used by not only Japanese but also many Western chefs influenced by Japanese food culture. Japanese knives are widely adopted because of their sharpness, flexibility of use and beautiful craftsmanship. Among the many producers of knives in Japan, Sakai City is best known as the capital of Hocho (traditional kitchen knives) and Sakai's Hocho are holding the line against others in terms of their quality and sharpness. Sakai Hocho are handmade by artisans and have been available to mainly domestic customers. However, Hocho manufacturers in Sakai are making efforts to improve their productivity and promote their products offshore to enhance their business activities.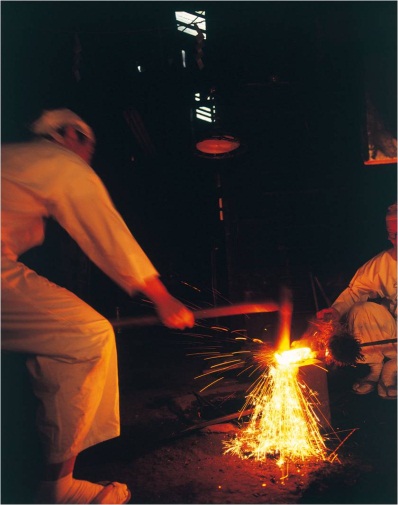 Encouraging this trend, the city government has been supporting the promotion of Sakai products, including Hocho. Recently, the Sakai City Industrial Promotion Center and New York Mutual Trading, Inc. co-hosted the "SAKAI CITY FAIR in NEW YORK" at the Japanese Culinary Center from August 10th to 30th, 2011. At this fair, Sakai offered various kinds of Hocho along with other local products such as soy sauce, vinegar, cooking equipment and incense. Sakai Mayor Takeyama visited this fair to promote Sakai products himself and certified Hocho artisan Mr.Nobuyuki Kawamura demonstrated the art of handling and maintaining Hocho. These efforts have made Sakai products hot sellers at this fair, which gave companies in Sakai even more chances to expand their business.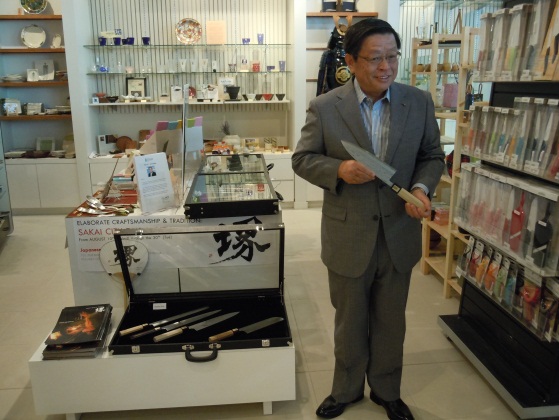 Sakai Mayor Takeyama at Japanese Culinary Center

Sakai City's continuous promotion of their products is considered to be one of the best examples of promoting local products by local governments. Sakai's ability to market and promote their products is an ongoing challenge. For further information, please visit the website of the Sakai City Industrial Promotion Center at http://www.sakai-ipc.jp/en/.
Keizo Ishibashi
(All Photos Provided by Sakai City)