The Ambassador's Residence on the Upper East Side was packed with an overflow crowd on Tuesday, August 27th as New York was treated to an evening reception featuring Japanese sake, lacquer ware, local foods, and koto music from the City of Ninohe in Iwate Prefecture.
Ninohe is responsible for roughly 75 percent of all lacquer resin production in Japan, which is of the highest quality and is used in restoring structures such as the Golden Pavilion in Kyoto and Toshogu Shrine in Nikko, as well as for traditional bowls, cups, and other items.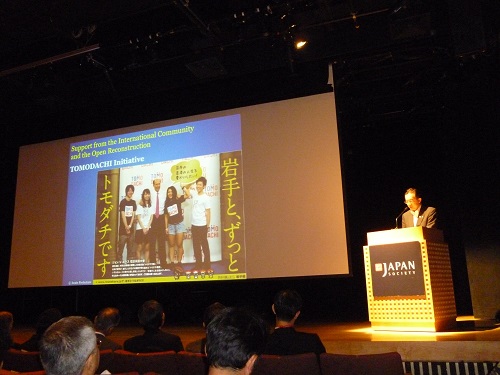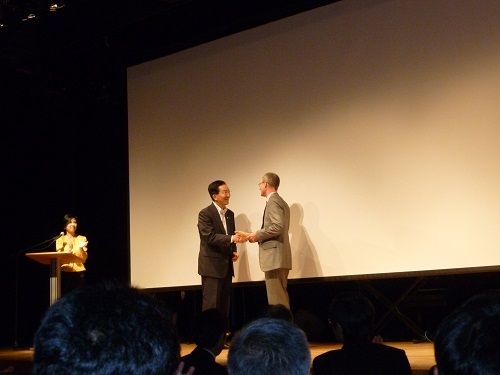 And what better way to enjoy the locally brewed rice wine than by drinking it from lacquer ware sake cups produced in the same community? There were different varieties of sake on offer for tasting, all equally delicious. Besides the lacquer ware and sake there were displays of glassware (another great way to enjoy sake), snacks, and other locally produced specialty goods. The food, too, was wonderful, and included wagyu beef, fish, rice, matsutake mushrooms, and other delicacies produced around Ninohe.
The evening began with a seminar on sake brewing and lacquer production in Ninohe, led by people involved in those crafts. The crowd spilled out of the room, as people craned their necks to see the speakers, and everyone was quite happy to move upstairs to see and taste the products for themselves.
Ninohe City is embarking, along with Iwate Prefecture as a whole, on a campaign to promote its goods more aggressively, both domestically and internationally. This event was simply one of the first of many to bring the flavors, skills, and traditions of Iwate to the rest of the world, so please keep an eye out in case there's an event near you.
Matthew Gillam, Senior Researcher