July 12th, 2011
Miyagi, as many people know, was badly damaged by the March 11th disaster and Tsunami. Fortunately it has been recovering with warm support from all over the world. The priority is recovering the lives of residents and land of Miyagi prefecture. Tourism, however, has suffered and so it is a high priority for Miyagi to attract visitors.
One way is to sell Miyagi's biggest historical asset- Date Masamune. So travelling around Japan, there is a group of make belief warlords, wearing heavy armor and having swords, and formed around Date Masamune who founded the Sendai clan and conquered a great part of the Tohoku region. What's more, their performances around the country promote Miyagi as a tourist destination and say a word of thanks for all the supportive activities of individual organizations.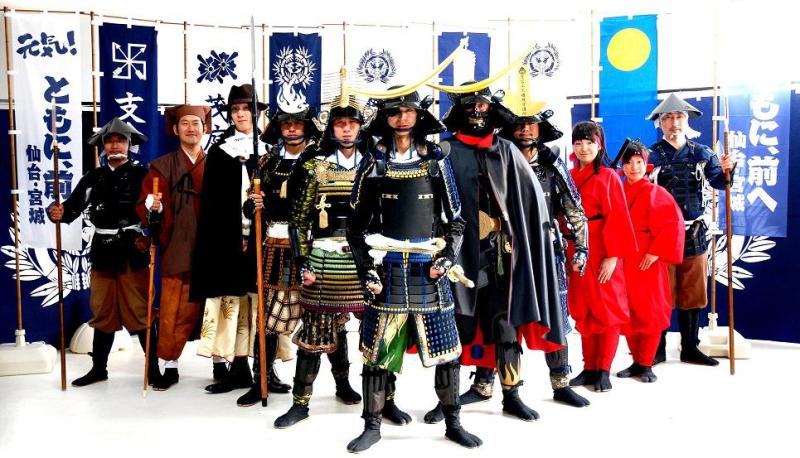 Actually, they are a travelling road show, called "Ousyu・Sendai Omotenashi (Hospitality) group Date Bushotai" which was set up by Sendai city, the capital city of Miyagi prefecture, last year. "Date Bushotai" has been taking advantage of a "Samurai boom" and has an immense popularity. The group of actors dress up as warlords and are all good looking men! Their daily demonstration in the Sendai castle is very professional, because they are the elite few who have passed a difficult audition test. Needless to say, they have a lot of fans, especially young women.
"Date Bushotai" goes on tour to thank everyone most sincerely for all their aid to the disaster area and to attract more tourists to Tohoku region by making an appeal to help the revive the area affected by the March 11th disasters. This is just like the former New York City Mayor Giuliani did immediately after the September 11th 2001 tragedy, when he said, "Come to New York and spend your money here". Also, they take it upon themselves to advocate saving electricity, especially as everyone is worried about electricity shortage owning to the effect of the disaster. They use the metaphor of electricity is their appeal.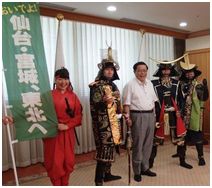 Making a courtesy visit to the Mayor of Sakai city, Osaka
Thus, they say "We got a lot of power by your support, now we should become cheerful and want to return the courtesy. So, please come over to vibrant Sendai, Miyagi and Tohoku!!"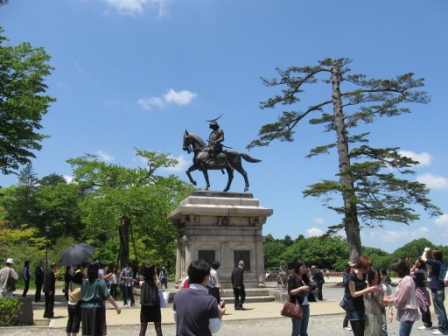 The view of the Sendai castle
Reference:
Takahiro Ito