Several of our staff members were able to attend the first ever Parks Without Borders summit, held at the New School on May 24th, hosted by the New York City Department of Parks and Recreation. Attendees included people from numerous civic and parks advocacy groups along with design firms and other private and nonprofit sector entities involved in a broad range of issues.

The City's new Parks Without Borders program has received $50 million in City funding and seeks to more effectively and comprehensively integrate greenspace into the lives of New Yorkers. The all-day summit included keynote speeches on the evolution of public space in New York and the role of parks in urban life, as well as sessions on how parkland is increasingly being seen as "green infrastructure", something essential rather than simply an amenity for urban living, and a critical component of efforts to improve such things as resilience, social equity, sustainability, public health, and community engagement.

Two fundamental principles underlying this effort are engaging with citizens to exchange information and achieve effective implementation to benefit the community, and to work across departments and agencies in a collaborative rather than stove-piped bureaucratic fashion to address needs.

Parks Commissioner Mitchell Silver also announced the first eight winners of the competition held to select parks that will receive funding for upgrades to improve their integration with and benefits to their communities. Spread across the five boroughs, it is hoped that these will serve as examples of the value of the Parks Without Borders approach and will become the foundation of ongoing efforts to create parkland and green space to effectively serve 21st century needs.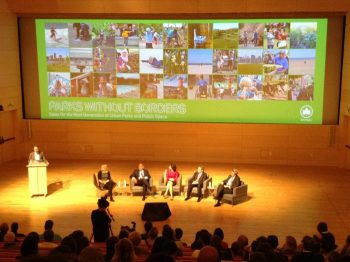 Matthew Gillam
May 2016