The physical devastation in the Tohoku region of northeastern Japan was immediately clear and overwhelming, even from a distance, and the ongoing work to rebuild cities on higher ground is a striking civil engineering project.
However, beyond the need to create new physical infrastructure there lies a concurrent need to create new social infrastructure, and this is not so readily apparent to the eye.
Communities were under stress already, prior to the triple disasters of March 11, 2011, owing to declining birthrates, the outmigration of young people looking for opportunities, and the aging and mortality inevitably taking place among those who stayed behind, combined with changing economic and social behavior. As even larger cities lost population, smaller fishing and farming villages and towns wrestled with questions about whether they would continue to exist as their inhabitants aged or moved away. Even where people stayed, the availability of cars and attractions of large shopping and entertainment developments drew economic activity away from smaller businesses and reduced the allure of traditional community life.
Communities devastated by the earthquake and tsunami on 3.11 (leaving aside those that had to be evacuated due to radiation from the Fukushima nuclear plant) have had to contend with both how to physically rebuild and how to hold themselves together through what is often years of displacement into temporary housing so that there would actually be a community to rebuild for once work could begin.
Furthermore, all levels of government were overwhelmed by the magnitude of the disasters, especially since many municipalities lost large numbers of their administrative personnel, and have been hard-pressed to provide anything beyond the most fundamental services to their residents. Neighborhoods and community groups suffered similar devastation to their infrastructure and members.
There were, of course, numerous groups who moved in quite quickly after the tsunami and helped fill various needs, from distributing supplies to mucking out homes to eventually providing mental health support and other forms of psychological aid. These efforts were, however, by nature, short-term to whatever degree and largely dropped in from elsewhere. What is more significant (and interesting) are the efforts that have grown in the wake of these, locally, to address long-term needs as the recovery and rebuilding process advanced.
The situation in Tohoku is, in many ways, a continuation of developments arising in the wake of the Hanshin Awaji Earthquake of 1995 that devastated large sections of Kobe. From that time, faced with a slow and underpowered government response and seeing a range of needs not being met, Japan finally started to experience meaningful development in its volunteer and nonprofit sectors. These eventually produced sufficient political pressure to enact legal reforms making it easier to establish NPOs, along with administrative reforms pertaining to disaster response and coordination and the utilization of volunteers. Further advances in the legal and administrative structures (especially concerning the acquisition of favorable tax status to facilitate fundraising) and in public consciousness of the role that ordinary citizens can play in response and recovery have been occurring since the Tohoku disasters of 2011.
Tohoku has demonstrated a range of responses to the need to rethink the roles that government and civil society play as well as their relationship with each other as both work to support individual residents and entire communities. I would like to mention a few examples here, ranging from a neighborhood to a city.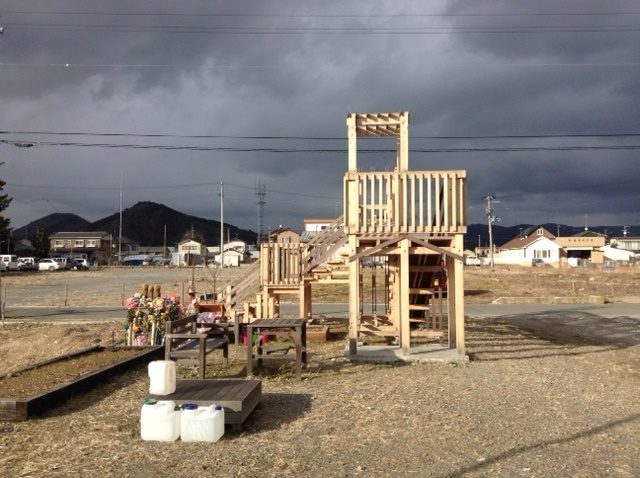 The monument "Niji no Kakehashi" (Bridge of Rainbows) in Watanoha

Team Watahoi
Team Watahoi is a nonprofit group formed by neighborhood residents in Ishinomaki who evacuated to the Watanoha Hoikusho (Watanoha Daycare Center) after their homes were destroyed by the tsunami. The group's founder, Endo Shin'ichi, and his wife, Ayako, lost their three young children in the disaster, along with their home and almost everything else. They have been the driving force behind Team Watahoi, providing both a physical place, on the site of their former home, for people to gather or just spend a little time in their old neighborhood, as well as conducting events like mobile clinics for elderly people living in temporary housing to provide physical and mental exercises to help them stay active and healthy.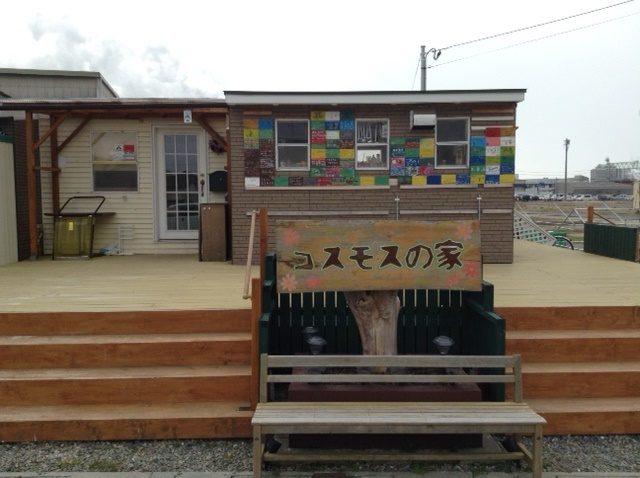 Cosmos House, home base of Big Up Ishinomaki

Big Up Ishinomaki
Big Up Ishinomaki is another nonprofit in Ishinomaki. It was created by Mr. Harada Yutaka, who came to the city from Tokyo as a volunteer after the disasters and soon recognized a need for a community gathering space and better information dissemination to the remaining residents in the Kama and Ookaido neighborhoods. Working with a growing network of supporters, Big Up first constructed Cosmos House, where residents can gather for meetings, social events, and educational sessions, and where the group has a small shop selling local goods to help raise operating funds. Angel House was recently completed, next to Cosmos House, to provide a space for young children to play, study, and be creative. Having places for people, along with events and information, is a great boon to the residents who have rebuilt their homes and are sticking it out in an area that was inundated by two to three meters of water and where traditional community halls (kouminkan) and playgrounds were heavily damaged and social networks frayed.
Funakoshi
Funakoshi is a fishing village located in a small inlet in the northeastern corner of Ishinomaki City, with which it was amalgamated in 2005. It was profiled in a documentary film (entitled "Funakoshi", by former JET Program ALT Estelle Hebert), and has received wide recognition in Japan and abroad for its tenacious and innovative efforts to keep itself together while working towards the eventual rebuilding of the village on higher ground. Led by Mr. Nakasato Koichi and a core group of residents, Funakoshi has been steadily and patiently struggling to coordinate with authorities from the city, prefecture, and central government to develop and execute a plan to level off a mountain next to the former village site and rebuild there. In an effort to raise funds to support village activities and to keep residents working and engaged, the "Funakoshi Ladies" have been creating and selling phone straps, necklaces, charms, and other items using the famous local slate decorated with hand-painted designs and braided cords, while the men have restored their fishing fleet. Funakoshi stands out as an example of the challenges faced by smaller communities as they try to hold out long enough to rebuild, without their members dispersing to the four winds, and the extraordinary efforts required to accomplish that. Effectively utilizing volunteer support, much of which has involved non-Japanese working through groups like It's Not Just Mud and Peace Boat, and savvy marketing for its products, Funakoshi is also an example of how some communities are reaching beyond their traditional insularity, harnessing the Internet and other media, and developing strategies to survive that connect them to the global community.
Rikuzentakata City
Rikuzentakata, in Iwate Prefecture, is perhaps the largest example of this, facing the same pressures to rebuild quickly and find ways to keep people from simply moving away. Originally a city of a little over 23,000 people immediately prior to 3.11 (down from a peak of a little over 33,000 in 1956), it was largely wiped out by the tsunami and is currently undergoing a massive terracing and rebuilding effort. Basically one large construction zone with some hardscrabble but charming shops, restaurants, and services functioning in temporary quarters, it is a difficult and grueling place to live. Under its mayor, Mr. Toba Futoshi, the city has launched itself on a years-long project to not only rebuild but also rebrand itself as an open and inclusive community linked to the rest of the world. The city has created a draft document with the unwieldy title of "An Action Plan for Creating a Community Where the Word "Normalization" Is Unnecessary", and plans to conduct a public input process to refine this and eventually integrate it with their overall disaster recovery plan. The initiative is notable not so much for its aspiration to make Rikuzentakata a convenient and pleasant city to live as for its explicit inclusion of groups such as the LGBT, non-Japanese, and disabled communities in its list of stakeholders. As such, the effort here is not only to restore infrastructure and property, but also to reshape society to meet the realities of 21st century Japan, where communities must compete for talent and make the most of everybody's contributions to support economic development through creating new businesses and new opportunities beyond necessarily limited resource exploitation and declining manufacturing. This kind of change cannot simply be imposed by City Hall. It must be built up from the grass roots through working with residents and harnessing the initiatives of community groups and motivated individuals, including those who heretofore had no voice.
The long term
Along with community-building and recovery, one of Tohoku's greatest needs is clearly local talent. So many of the groups being formed and initiatives being undertaken are hamstrung by a lack of people able to function in English, write grant proposals, sell to overseas markets, and do all of those jobs that require advanced technical, language, and business skills. Since 3.11, this need has been filled by volunteers, Japanese and foreign, who have taken detours in their lives to spend time in the region and work on behalf of groups and communities despite often having no roots there. Attracting people to the region for the long term by providing opportunities and fostering local talent that does not then leave for Tokyo or points beyond is the ultimate key to Tohoku's recovery and survival.
Furthermore, this development is not just important for recovery but also for creating more resilient communities. While Japan has always enjoyed relatively stronger social bonds and the ability to function collectively in responding to challenges, the experience of 3.11 showed the need to integrate non-Japanese more effectively into preparedness and response capabilities and to give women a greater voice and diversity of roles in these efforts. These needs are as true for economic development as they are for disaster preparedness, and community groups, nonprofits, and government-supported efforts to strengthen civil society and public / private / nonprofit sector coordination are all vital elements in making this happen.


Matthew Gillam
June 2015