JLGC was pleased to host a visit by a group of high school students from the City of Hiroshima and Okinawa Prefecture, two places with living memories of the horrors of war, who visited New York along with the Mayor of Hiroshima, Mr. Kazumi Matsui. Mayor Matsui came, along with other members of the group Mayors for Peace, to attend the Preparatory Meeting leading up to the 2015 Nuclear Non-proliferation Review Conference at the United Nations. He was accompanied by the students, who met with various people in New York and collected signatures for their petition calling for the abolishment of all nuclear weapons.
As part of their visit, on Monday, April 28th, after spending a couple of hours at Stuyvesant High School meeting with members of the advanced Japanese language class there, the students came by JLGC, where they conducted a practice run-through of the presentations they would give the following day at the United Nations appealing for a world free from nuclear weapons.
Four pairs of students, three from Hiroshima and one from Okinawa, gave PowerPoint presentations recalling the suffering inflicted through war on their communities and stating their arguments for why all nations have a moral obligation to renounce the use and possession of these weapons. Speaking in English, each team practiced their delivery skills, giving very impassioned presentations, and then took questions from the JLGC staff who were there to listen and give feedback.
Mayor Matsui also stopped by briefly to observe, and was clearly as impressed as we all were by the students' dedication and abilities.
It was an honor and a pleasure to spend some time with such a thoughtful and energetic group of students, and we are happy to have been able to support them in some small way in their mission.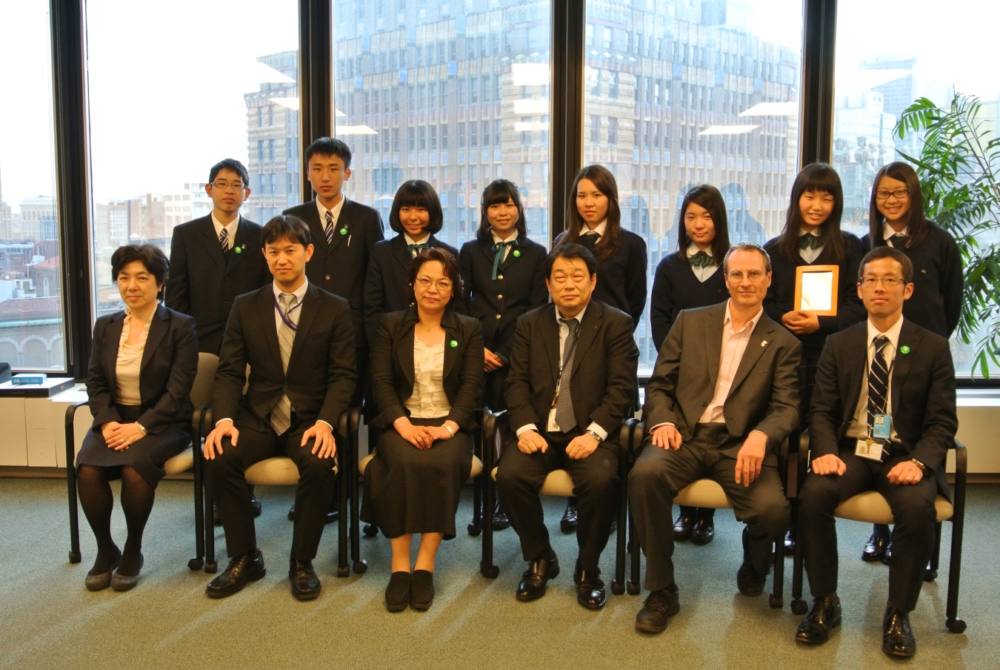 Matthew Gillam, Senior Researcher
May 2014