"A Taste of Tohoku : Food, Sake, Recipes & Stories" was held on April 11 at the Japan Society in New York. The main purpose of the event was to introduce a selection of Tohoku's dishes, and the lecturer was the Japan food journalist, Ms. Elizabeth Andoh, who has lived in Japan for a long time and reports on Japanese traditional foods. There was an audience of about 200 in the event hall.
There were two parts to the event. First, Ms. Andoh lectured about a selection of Tohoku's traditional dishes such as Iburigakko (pickled daikon), Sasa-Kamaboko (steamed fish paste), Zundamochi (rice cake with mashed green pea), Kiritanpo (mashed rice on a chopstick), Sendai-Miso, Shisomaki (miso wrapped in a shiso leaf), Jyunsai (water shield), Hoshigiku (dried chrysanthemum), Syotturu (fish sauce), dried fish. Along with their cultural and historical background, she spoke about how to prepare them, their flavors, and how to best enjoy them. She was able to clearly explain the excellence of Tohoku cuisine, based on her understanding of the food cultures in Japan and the United States. The audience was very interested in the theme, so after the lecture she got many questions about such things as desserts, locally produced chicken, and taro stew (Imoni). After that a tasting was held, and participants enjoyed Ume Onigiri (with rice imported from Iwate), Jyunsai , Iburigakko, Shisomaki, and several kinds of Sake(made in Tohoku).The event was successful not only in advertising Tohoku but also in supporting reconstruct ion after the tsunami.
This event was planned by the Japan Society, in cooperation with Ms. Andoh, several Japanese companies, and especially Japan Local Government Center (CLAIR, New York).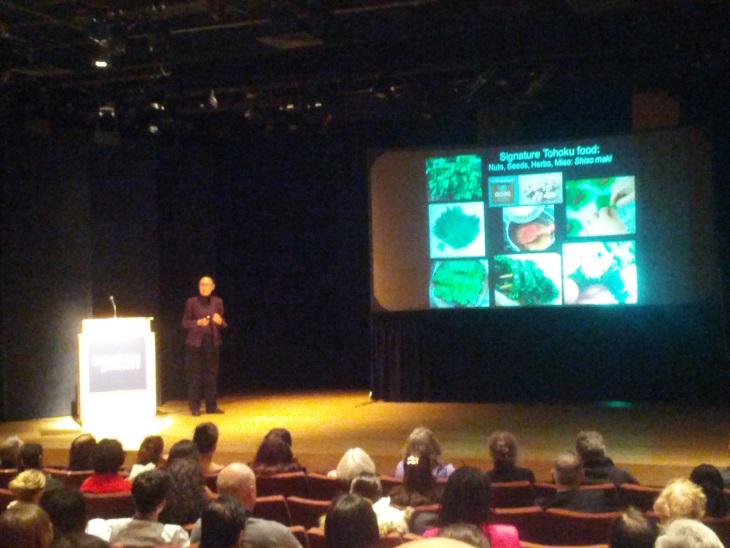 Lecture by Ms. Elizabeth Andoh