The global recession has severely affected not only the business community, but also local governments in the U.S. from the latter half of 2008. Despite the fact that a large number of local governments faced serious financial difficulties, some of them could avert or overcome financial crisis. St. Lucie County, Florida, is one successful example, due to their rapid response to the unfolding crisis.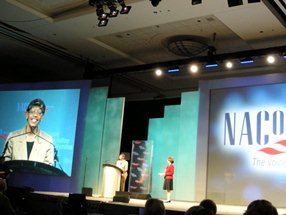 Award ceremony for County "Leader of the Year" at the 2011 National Association of Counties Annual Conference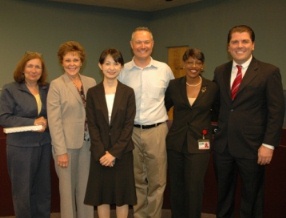 St. Lucie County Commissioners, Ms. Outlaw, Chairman of the Citizens Budget Committee, and Naomi Maki
Because of the global recession, St. Lucie County, Florida, encountered a serious financial crisis, facing a $57 million operating deficit, double-digit unemployment, and one of the highest foreclosure rates in the country. But, after just two years, the County has made great strides to resolve its financial problems, such as reducing its deficit by $26 million, and bringing unemployment down to 13.0 percent in 2011, from 14.1 percent in 2010. One of the most important players is Ms. Faye Outlaw, MPA, St. Lucie's County Administrator. She was selected as American City & County magazine's County Leader of the Year for 2011, and received the 2011 Career Excellence Award from the Florida City and County Management Association. Her efforts have also attracted admiration from the state's legislators.
Since 2007, the County has taken various steps to reduce expenses related to personnel including a hiring freeze, early retirement, voluntary layoffs, and involuntary layoffs. Also, some public services have been reduced in the effort to achieve a balanced budget. However, while cutting back budgets the County has not only maintained several core programs and services but also has increased some service levels by creating and enhancing public-private partnership. For example, the County has kept the Regional History Center open by utilizing volunteer staff, and has increased the frequency of controlled burns on nature preserves by arranging for students enrolled in Indian River State College's Public Safety Training Complex to help conduct them as part of their training. In addition, the County established the Solar Energy Loan Fund and the Green Collar Task Force with local community leaders as a holistic approach to promoting both environmental sustainability and job creation. Not only do both programs help create and supply a market for Green Economy jobs, but they also provide renewable energy.
The key to success is summed up in the following comment by former St. Lucie County Commissioner Chris Craft, "We started taking action toward fiscal sustainability six years ago. We built up a sizable savings account, and as a result of that it has made it easier to implement many of the programs and be successful with the leadership we have in place."
The key factors were thorough program development based on foresight and great leadership to carry it out. Behind these results, there are good relationships of trust not only between the Board of County Commissioners and County Administrator, but also the County government and local community. Success could not afford to lose anyone. As the saying, "Rome wasn't built in a day" implies, success comes from adequate preparation and steady efforts.
The County is still in the process of financial reform and Ms. Outlaw still faces the challenge of continuing to achieve fiscal sustainability despite many difficulties. This report describes, through interviews with Ms. Outlaw and other stakeholders, how the County has overcome its financial difficulties so far. I am proud to share St. Lucie County's successful financial reforms with Japanese municipal governments and hope the County can be like an adviser or friend to them as they work to overcome similar problems.
CLAIR Report No. 376, "Learning from successful financial reform in St. Lucie County, Florida"
Summary in English
Full Version in Japanese
With sincere gratitude to St. Lucie County for my report,
March 19, 2013
Naomi Maki, Assistant Director, Representative of the City of Hiroshima