Wish for world peace from Hiroshima
August 30th, 2011
After the accident at Tokyo Electric Power Company's Fukushima Daiich Nuclear Power Station this March, the rights and wrongs of the peaceful use of nuclear power has become a hotly debated issue all over the world.
As in previous years, the city of Hiroshima commemorated this year the 66th anniversary of the dropping of the atomic bomb. On August 6, the city of Hiroshima held the Peace Memorial Ceremony to pray for the peaceful repose of the victims, for the abolition of nuclear weapons, and for lasting world peace. About 50,000 people, including Prime Minister Naoto Kan and family members of the A-bomb victims participated. Every year, the city asks foreign ambassadors from nations, including from those with nuclear weapons to attend the ceremony to see the city's efforts to realize a world free of nuclear weapon by 2020. This year, Charge d'Affaires James P. Zumwalt representing the United States of America attended, with representatives from the EU and another 65 countries, including nuclear states, U.K., France, and Russia.
Mayor Kazumi Matsui quoted two victims' experiences in this year's peace declaration and said "I would like to communicate the hibakusha experience and desire for peace to each and every person on this planet." Moreover he said that we want all countries, especially the nuclear-armed states, to pursue enthusiastically a process that will abolish nuclear weapons and we appeal for their elimination by 2020. Making a reference to the Fukushima Daiichi nuclear accidents, he demanded "The Japanese government should humbly accept this reality, quickly review our energy policies, and institute concrete countermeasures to regain the understanding and trust of the people." To this, Prime Minister Kan reiterated his aim to free the society from dependence on nuclear power.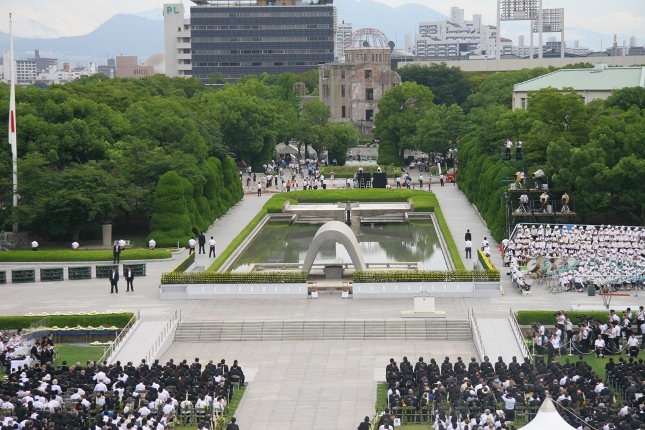 Participants offered a one-minute silent prayer for the victims at 8:15 a.m., together with a wish for peace.
Around August 6 and 9 (The day, Nagasaki city was bombed), some peace events were held in the US. For example, a peace memorial ceremony was held in San Diego, CA, another in New York, NY, one in Eugene, OR; peace lantern ceremonies were held in Berkeley, CA, Rochester, MN, Syracuse, NY, and Knoxville, TN. The New York Times (on August 7) had an article entitled "Atomic Bomb Survivors Join Opposition to Nuclear Power" with a picture displaying lanterns floating in honor of the victims of the Hiroshima A-bomb. The article quoted two victims' comments who said that this year's disaster at the Fukushima Daiichi nuclear plant confronted the survivors once again with their nightmare. That disaster has triggered from those survivors an appeal not only to abolish nuclear weapons but also to abandon nuclear energy.
The city of Hiroshima is continuing to promote world peace. For more details please visit following websites.
NAOMI MAKI