Volunteers help New York City struggle back from Hurricane Sandy
Within the first hours after Hurricane Sandy left the New York City area, family, friends, and neighbors were already helping one another to look for survivors, take in the homeless, deliver food and water to those people who had none, and begin to pick up whatever personal possessions could be salvaged from the wreckage. In the days immediately following, volunteer groups such as Occupy Sandy started to organize relief efforts, moving into the storm-ravaged neighborhoods along the shore to bring supplies and check on survivors.
In some areas there have been complaints that government help was slow to arrive, and questions continue to be asked about how well the city was prepared for the hurricane itself as well as its short-term and longer-term response needs.
In any case, over the following days, government, nonprofit, and citizens groups continued to ramp up their operations, collect supplies, beef up their manpower, and move out into the various neighborhoods that had been hardest hit, and by the end of the first week large groups of volunteers were working alongside residents and government agencies, delivering supplies and helping with the cleanup. Long-established local volunteer organizations such as New York Cares are partnering with or working alongside groups created specifically in response to the disaster, such as the Marathon Of Relief Efforts (MORE, now disbanded), formed by people who had planned to run in the New York City Marathon, which was subsequently cancelled because of the emergency situation, and groups from churches, synagogues, or other houses of worship. Numerous volunteers have also come to the area from all across the country to help out.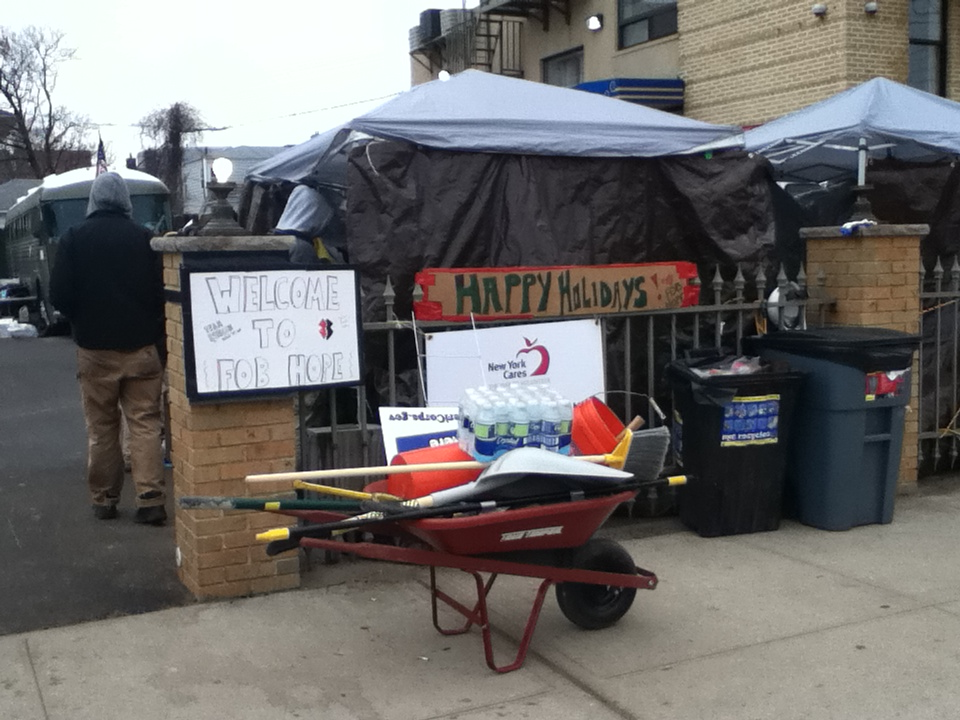 Forward Operating Base Hope, in the Rockaways.
This effort has been increasingly organized, and city agencies, working under the Mayor's Office, have had a large role in directing volunteer groups and coordinating their activities with city departments, state National Guard, and FEMA personnel. Soon, anyone working in the affected areas could see, along with volunteers from around the country, the NYPD directing traffic, National Guard troops handing out relief supplies and conducting canvassing operations to ascertain residents' safety, FEMA personnel assessing damage, New York City Housing Authority personnel overseeing relief operations in their public housing projects, Sanitation Department workers helping clear debris with heavy equipment, and, of course, the Red Cross. Among these, personnel from the Mayor's Office and two of its subsidiary entities, NYC Service and the Mayor's Community Affairs Unit, have been charged with coordinating the government and volunteer activities.
NYC Service was formed in 2009 by Mayor Bloomberg in order to facilitate volunteer activities in New York City by focusing additional attention and resources on them and making it easy for people to volunteer. This role was formerly held primarily by New York Cares, which even has a seat in the city's Emergency Operations Center, but Mayor Bloomberg clearly wanted a more direct role in managing these activities. The NYC Service page for Hurricane Sandy volunteering can be seen at http://www.nycservice.org/#s.
The Mayor's Community Affairs Unit was originally created in 1978 and is responsible for maintaining relations with community boards, civic groups, neighborhood associations, and other public and private agencies so that the mayor can be made aware of pressing issues in the communities around the city and so the city can coordinate with these communities in addressing their concerns.
The city has been able to now leverage these existing relationships with volunteers and communities in the wake of Sandy to create a network of groups who can provide manpower and supplies that enhance the city's resources and allow it to respond more comprehensively and more quickly to assist people in the affected areas, augmenting the city's somewhat limited capabilities.
In addition to these agencies, in late November Mayor Bloomberg appointed four senior level managers as Community Recovery Directors, each of whom handles one part of the city. Their primary responsibilities are to "identify urgent needs, stay in close contact with the community leader and deploy resources to meet needs", according to the Mayor's Office. Two of these directors head the agencies mentioned above: Nazli Parvizi, Commissioner of the Community Affairs Unit, responsible for Brooklyn, and Diahann Billings-Burford, Chief Service Officer of NYC Service, responsible for Queens. The other two are Haeda Mihaltses, Director of Intergovernmental Affairs in the Mayor's Office, responsible for Staten Island, and Matt Mahoney, Associate Commissioner in the Bureau of Communications & Intergovernmental Affairs in the Department of Environmental Protection, responsible for Manhattan and the Bronx. Rather than managing or directing relief efforts, these officials seem to be acting in a more supporting and coordinating role, trying to make sure the groups and agencies on the front lines have the resources they need.
Volunteers have allowed the City to expand its ability to reach out to people in the affected zones to make sure they have food, water, and other necessities, and, increasingly, to help clear out the debris, gut ravaged buildings, and begin work on reclaiming lives devastated by Hurricane Sandy. Their ongoing work demonstrates the power that civic engagement has to bring a community together to help those in need and enhance public sector relief and recovery efforts.
Links
Mayor's Community Affairs Unit
253 Broadway, 14th Fl., New York, NY, 10007
(212) 788-7418
Fax – (212) 788-7754
NYC.gov/html/cau

Established by Executive Order No. 6 of 1978, and amended last by Executive Order No. 105 of 2007, The Community Affairs Unit maintains liaison with community boards, civic groups, neighborhood associations, and public and private agencies in order to address and bring to the attention of the Mayor and other appropriate City officials issues and problems of concern to communities citywide. It is also charged with carrying forward mayoral initiatives through direct contact with communities.

Commissioner – Nazli Parvizi
Assistant Commissioner, Operations – David Schmid
Assistant Commissioner, Community Outreach – Fred Kreizman
NYC Service
253 Broadway, 8th Fl., New York, NY, 10007
(212) 788-7550

NYC Service is a new effort to promote service and volunteerism in New York City. Through Impact Service Projects (ISP), NYC Service aims to make our City the easiest place in the world to volunteer, while creating or elevating volunteer opportunities that address the most urgent needs of the city. NYC Service also includes NYC Civic Corps, a group of over 150 individuals who are tasked with supporting non-profit organizations throughout the City who are struggling to manage and support sustainable volunteer programs. The office is led by the Chief Service Officer who oversees and measures

Chief Service Officer – Diahann Billings-Buford
Senior Special Assistant to the Chief Service Officer – Lauren Givner
12/14/2012
Matthew Gillam, Senior Researcher